If you want to take your dog somewhere, like to the vet or on a picnic, the collapsible dog crate comes in handy. It is also easy to find a place for such a crate in the house when you do not need it.
That's why I've made a list of the best collapsible dog crates. There are different options: wire, soft, wooden, and steel; for home and travel use. I haven't found the perfect kennel for all situations yet. But you can definitely find something for you.
Quick Pick Table
| | |
| --- | --- |
| Diggs Revol Dog Crate  | The best premium quality foldable crate. Suitable for medium-sized dogs and puppies. However, not very compact when folded. |
| IMPACT  | The most reliable crate you can use to transport your dog in the car. Suitable for very anxious dogs who are prone to disruptive behavior. |
| Zampa Pet Portable Crate | A simple and inexpensive soft crate that takes up minimal space when folded. Suitable for carrying small, quiet dogs and for home use. |
🥇Diggs Revol Dog Crate 
How Does It Fold: folds in seconds without tools.
Available sizes: S, M.
This is a crate for those who are used to buying premium products for their pet. I like everything about it: the quality of the materials and assembly, the thoughtful details such as the rounded corners, the diamond-shaped safety mesh, the convenient tray and latch, the folding garage door and the extra doors on top.
The crate folds up very easily and you don't risk getting your fingers caught in the process. Then the Diggs Revol dog crate can be easily carried by the handle. Although it's a bit bulky when folded, it can still be stored somewhere under the bed or in the car.
The Diggs Revol dog crate is suitable for medium and small dog breeds, as well as puppies. The manufacturer also offers a divider that allows you to separate the puppy part of the crate. These dividers are often very inconvenient, but this one is quite easy to install.
All in all, this is my love ❤️. Check out a little review of this crate to see how cool it is:
---
🥈 IMPACT – most durable collapsible dog crate
How Does It Fold: folds in seconds without tools.
Available sizes: 34, 40, 48, 54 inches.
If you travel often and are looking for a collapsible dog crate for your car, I recommend buying only this crate or crates of similar quality. Other ones will not protect your dog in case of an accident.
It is the only crate that is absolutely safe for dogs with high anxiety. Other crates don't do the job. I know that it is expensive, but unfortunately there are no cheaper alternatives with the same parameters.
---
🥉Zampa Pet Portable Crate
How Does It Fold: pops up in seconds, no assembly required.
Available sizes: M, L, XL, XXL, XXXL, 4XL.
This is the best option if you are looking for a collapsible crate to transport your dog. It is inexpensive, lightweight, and safe. It can be folded and unfolded at least every day, and you can travel with your dog wherever you want. And at home it can be a cozy place for your pet.
---
MidWest Homes for Pets iCrate
How Does It Fold: you can set it up in seconds and without tools.
Available sizes: XS, S, M, L, XL.
I have also added to my list a foldable wire crate. Some people like these crates, but I don't.
I have to admit: This crate is very compact when folded. And it doesn't cost much compared to previous options. But folding it's not very convenient (you can get your fingers caught).
I think these crates aren't unsafe. It's better to give preference to crates like DiggsRevol or PetGear, where the mesh is combined with plastic parts. This way there are fewer gaps for the dog's paws to get stuck in (yes, this happens with wire crates).
Consulting: these two cons make MidWest's iCrate unsafe for distruptivety dogs with separation anxiety. But for others, it would be a good option for home use and for transportation.
---
Pet Gear 4 Door Wire Collapsible Dog Crate
How Does It Fold: no tools are needed to fold and unfold it, and the included storage bag makes it easy to carry.
Available sizes: S, M.
The PetGear crate is a cheaper alternative to the DiggsRevol. It has a similar design, also folds and unfolds easily, and has 4 doors. But its quality is much lower. I would recommend it only for occasional use.
This video shows how to fold and unfold the PetGear crate.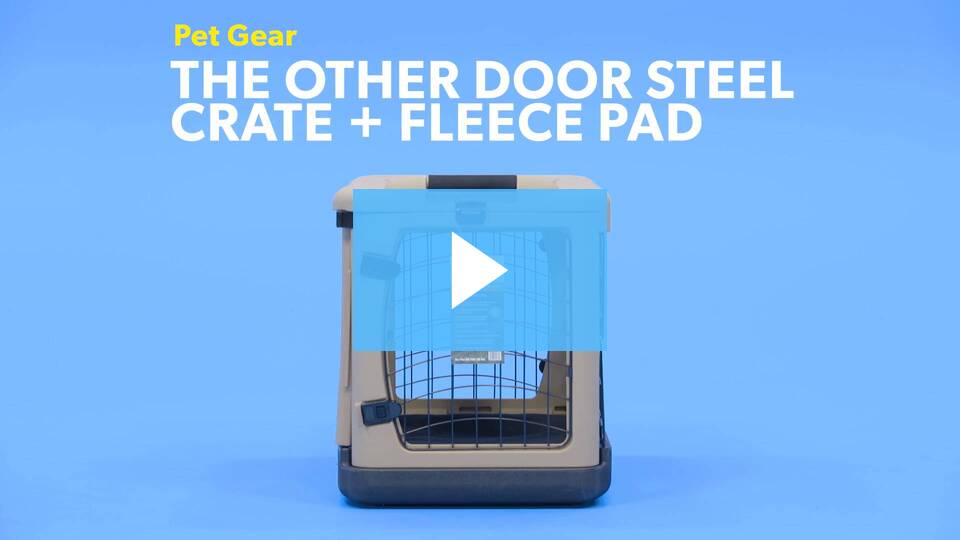 ---
PAWD Plastic Collapsible Crate for Small Dog
How Does It Fold: can be folded without tools.
Available sizes: one size (21*16*16).
This collapsible crate is an option for those who are looking for a nice and original foldable crate that is not hard to carry in your hand. However, the PAWD crate is unsuitable if you want to lock your dog in it unsupervised, because he can chew the plastic or open the latch.
---
Lovupet Wooden Portable Foldable Pet Crate
How Does It Fold: folds in 1 step without tools.
Available sizes: S, M, L.
I think this crate is the best option for home use. It's safer and therefore suitable for crate training. The price of Lovupet crate is higher than usual, but for a natural wood product it's even cheap.
---
Ownpets Portable Dog Crate
How Does It Fold: press the button to quickly open and fold the crate.
Available sizes: L(32″L x 23″W x 23″H).
When I was almost done with my list, I found this beautiful foldable soft crate. You can't carry your dog in it since there are no handles. But it folds up into a handy bag so you can take it camping or on a visit, for example.
---
What you should know before you buy a collapsible crate
There are a few important things dog owners should know before buying a crate. I want each of my readers to be aware of these:
It's wise not to use a wire crate in the car unless that crate has been crash-tested (especially if you have a large dog). It can cause additional injuries in an accident. I recommend choosing one of the best dog crates for cars for this purpose.
If your dog is an aggressive chewer or suffers from separation anxiety, then you should use special, indestructible crate for your dog.
Don't leave your dog inside unattended for the first time after buying a new crate. You need to make sure that your pet can't open the lock or get out in any other way.
Don't be lazy and check the crate's measurements based on your dog's size. It's not right to just go for "big" or "small".
Keep all these factors in mind when you choose a dog crate. And then your choice will be successful!
---
Save this article to your Pinterest Board so you don't lose it!
Latest posts by Anastasia
(see all)